About Us
Dr. Pouria Maleki
Meet Dr. Pouria Maleki grew up in North Orange County in Placentia, where he went to elementary, junior and El Dorado High School. In high school he graduated top of his class and was extremely active in sports including Wrestling (Team Captain), Football and Track and Field. He stayed local for undergraduate degree in Biomedical Sciences and Biology from University of California Riverside and graduated top of his class. He was honored to be accepted into the class of 2006 NYU-CD New York University College of Dentistry and graduated as one of the first classes certified in INVISALIGN therapy starting in 2002.
Although the ADA requires many hours of Continuing Education, Dr. Maleki far exceeds exponentially the required amount always active in multiple study clubs including SPEARS education, the AACA the American Academy of Clear Aligners, OC-AACA study club, Sleep Therapy, D. Barnes Curriculum Arrowhead Residency and many more. He believes that Dentistry is an art and skill that must be finetuned and improved constantly and if performed with empathy and true love for the craft we are truly changing lives one smile at a time.
Dr. Maleki has a beautiful wife Samaneh who is a UCLA graduatue and pediatric nurse at CHOC hospital and they have two little girls 20 months apart Neeki and Neyla. Family takes up most of his time but, when possible, he enjoys going to LAKER Basketball games and RAMS Football games with friends and family. He loves mountain biking and hiking trails and playing basketball at the gym.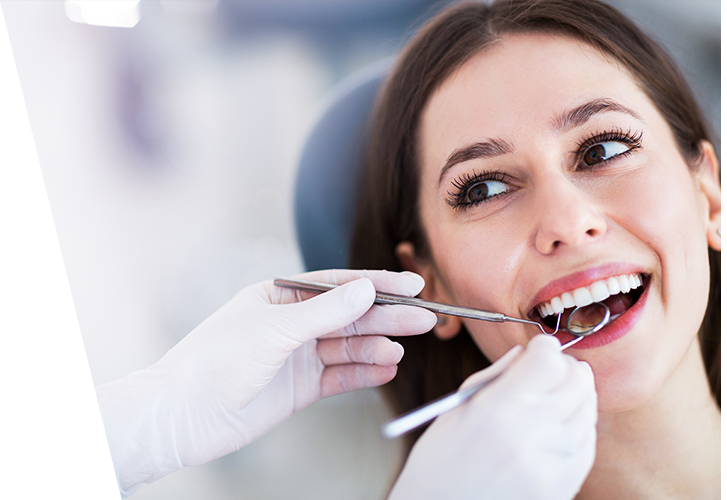 Dr. Saakshi Tandon
Office Manager Shima Saghafi
Treatment Coordinator Niloufar "Nilou" Sobhani
Meet Nilou Sobhani, EFRDA, Our Treatment Coordinator with over 18 years of experience in the field of Dentistry. Nilou graduated from EFRDA School as a Valedictorian, Receiving the President honor for her outstanding academic achievements. As a student mentor, she was passionate about helping her fellow students and guiding them toward success. As the Treatment Coordinator Nilou takes pride in providing patients with a clear explanation of their coverage and help every patient in finding their best option of how to achieve their ideal smile. Nilou truly believes a healthy smiles are a gift we can provide the community. She believes creating a warm and welcoming environment for patients, where they feel comfortable and confident in the care they receive. Her Passion for Dentistry is evident in everything she does, and she is committed to ensuring that every patient receives the highest quality of Patient Care and receives a perfect patient experience. In her free time, Nilou enjoys spending time with her Family & Friends, traveling, Singing and Cooking.
When looking for dental treatment, you want to get a dentist who is not only well-known for offering dental care but also an individual committed to helping patients feel secure and confident while in their care. South Coast Dentistry is a cutting-edge dental facility that offers all these and more.
we are dedicated to the well-being and health of our patients. You can count on a pleasant dental experience in a laid-back and welcoming setting when you visit our dental office. You no longer need to be worried about going to the dentist. We have established a facility in Aliso Viejo that allows you to visit without stress or tension and leave confident that you had the best possible oral health experience.
What South Coast Dentistry Can Do For You
At the South Coast Dentistry facility, we always act in the best interest of our patients. From our welcoming and relaxing office to our helpful and friendly staff to our continuous technological updates. Our primary concern is your care and comfort.
.
We believe in caring for our patients as we would like our family members to be treated. This level of care comes from a dental team focused on minor details and committed to making every appointment a success.
When visiting a dentist, you may feel nervous and uneasy. Your visit to South Coast Dentistry will reveal that we use state-of-the-art technology, provide a wide range of dental services, and that, irrespective of your needs, our professionals will work with you to achieve the ideal results possible to enhance your life and improve your smile.
Daily activities like chewing, speaking, and smiling become easier when your teeth are in good shape and working properly.
The Services Our Aliso Viejo Dentists Offer
South Coast Dentistry can handle all of your oral care needs, including:
Teeth whitening
Deep cleaning and teeth cleaning
Implants
Cosmetic dentistry
Veneers
Invisalign
Endodontic treatment
Dentures
Emergency Dentistry
Root canal therapy
General Dentistry
Teeth extractions
Bridges, Crowns, and more
At South Coast Dentistry, we will only operate once you're completely comfortable with it. We take the time to sit with you and explain your customized treatment plan. We know that dental operations can often be scary, but we also know that the more informed a patient is better. Along with figuring out the best course of action for your dental health, we'll devise a plan to improve your teeth and smile.
What Sets Us Apart
We Invest in State-of-the-Art Technology
At South Coast Dentistry, you can be confident that you're receiving the best a dentist offers. This includes digital x-rays, intraoral cameras, dental lasers, zoom whitening, and other advanced technology. Intraoral cameras and digital x-rays enable us to diagnose your dental health and provide early intervention in addition to a more effective treatment plan.
Making use of dental laser technology would make your operation more comfortable. When it comes down to beautifying and improving a person's smile, we want what's best for our patients. This philosophy implies you will receive the best care, service, and results in dental care that you will not find any other place in the area.
South Coast Dentistry Is Dedicated to Patient Comfort
From the moment you arrive at our clinic until you leave, our professionals will make your experience at the dentist as pleasant as possible.
A Full-Service Cosmetic and General Dental Clinic
In our clinic, you'll find high-quality, authentic dental care to restore your smile and enhance your dental health. We will not be content until you're happy with your smile and proud. Our professionals offer personalized dental care and a wide range of high-quality and comfortable dental care services.
Different Treatment and Financing Options Available
Another benefit of choosing South Coast Dentistry is that, unlike other dental clinics that prioritize profits over patient care, we are committed to offering you the best treatment and payment options. We provide financing options and accept most insurance coverage. We'll sit down with you and walk you through the payment processes or work with your insurance company.
A Professional Team
Our experts are ready to address all of your needs. We have the skill and experience to manage even the most stressful oral health issues. Our commitment, personal care, and training exceed that of any other dental practice.
Why Should You Hire Us?
South Coast Dentistry is a one-of-a-kind dentist facility that provides straightforward dental treatment procedures. Our team takes their time to get acquainted with each of our patients and actively listens to them, so we can fully comprehend the complications that their dental problems are presenting. Our outstanding training and use of cutting-edge technology enable us to deliver the highest quality of care to every patient.
Our specialists are known in the industry for consistently producing satisfying results and effectively resolving challenging dental problems. When you engage one of our professionals as your dental professional, you've chosen a specialist who prioritizes offering the best care possible and is equipped with the skills and knowledge to do so.
South Coast Dentistry prides itself on having a strong reputation, a tradition of excellence, and a drive to keep improving in everything we do. This is our team's approach to work, where we prioritize completing our work efficiently and then building on it.
We are dedicated to ensuring that each of our clients receives the most individualized care possible, along with a customized treatment schedule that addresses their unique dental goals.
We collaborate with the finest surgeons and specialists in southern California to deliver the best services for all our patients. Our goal is to provide each patient with what we refer to as "The Ultimate Patient Experience."
Schedule a Consultation with an Aliso Viejo Dentist Today
As your Aliso Viejo dentist, we'll offer you the best treatment possible while using cutting-edge dental technology that will maintain and improve your smile. Our practice prioritizes your well-being and comfort, and our team will help you feel relaxed as soon as you walk through our door. Call South Coast Dentistry today at 949-274-9086 to learn more about our practice.